Massage
Hands on therapy for healing and preventative maintenance
Massage therapy is far more than a relaxing day at the spa. The benefits of regular massage are an essential part of maintaining a healthy body.
Book a massage with Kandy Sadosky, Licensed Massage Therapist, by calling (501) 628-8522
Massage therapy has been known to increase circulation, boost the immune system, promote nervous system function, reduce blood pressure, increase flexibility, and aide in pain relief. It can also help prevent future injury and speed up recovery time, allowing you to get back out there faster and stronger.
Massage Therapy partners beautifully with Physical Therapy Treatment, aiding in healing of injuries and through preventative maintenance to ensure proper care of the body and its systems.  An example of this is when muscle guarding occurs.  Muscle guarding is the body's natural response to an injury where the muscles form a tight, protective wall in an attempt to further protect an injured site.  When this process occurs, the healing process can be delayed by the body's own protective reactions, causing the  great amounts of pain and dysfunction.  Massage therapy can relax and release those muscles allowing the Physical Therapist to perform their job more efficiently; allowing them to work on the actual cause of the original injury rather than spending a large portion of time managing post-injury symptoms and trying to work around a wall of tight and stiff muscles.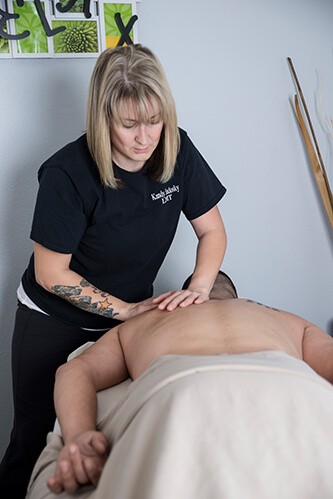 Types of Massage
Swedish Massage: Most widely practiced.  Soothing, known for relaxation.  Light to medium long flowing strokes, known to improve circulation and promote stress relief.
Deep Tissue: Therapeutic massage focusing on areas of chronic pain.  Strong pressure and trigger point therapy are used to alleviate discomfort and improve range of motion.
Pre-Natal: Suited for the relaxation needs of an expectant mother.  Performed with client on their back or side with plenty of bolsters and pillows to ensure comfort.  Generally relieves aches in low back, shoulders, and feet.
Sports massage: Designed to enhance athletic performance both Pre and Post Event.
Pre-event: Improves circulation without muscle fatigue. Generally light pressure and short strokes. Helps oxygenate blood and improve performance.
Post-event: reduces recovery time, decreases muscle soreness, and allows athlete to return to training faster.
Book a Massage
(501) 628-8522
100 Gateway Drive
Cabot, AR 72023
Did you know?
When running, you can exert forces up to 4 times your bodyweight.
Meet your PT

Our staff are highly trained in a wide variety of treatments that allow us to serve patient populations of all conditions, ages, and limitations.
Independently owned & operated in Cabot, Arkansas.
Find Us
100 Gateway Drive
Cabot, AR 72023
Appointments: (501) 286-6059
Fax: (501) 286-6061
Our Hours
Monday: 6:30am-7pm
Tuesday: 6:30am-7pm
Wednesday: 7am-6pm
Thursday: 6:30am-7pm
Friday: 6:30am-5pm
Saturday: Closed
Sunday: Closed